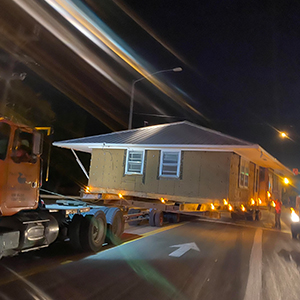 If you have fallen in love with your house but need to move to a new location for work or other reasons, or you want to live in a different area, you may want to check into moving your entire house. You will first need to enlist the assistance of a top-quality house moving company, such as Associated Pacific Movers, Inc.
First of all, let's take a look at the benefits of moving your entire house.
Benefits of Moving Your Entire House
If your home is considered historic, you may have to move it to keep it from being demolished for some reason. This is one way to preserve a historic building and its amazing architecture and detailing.
If you have great memories of your house and want to continue living in it but want to move to a new location, you can achieve both goals by moving your entire house to the new location.
For example, if you have lived in your house for 30 years in town but want to live out in the country where it's more peaceful, you can pay a house moving company to uproot your entire house and move it to your new land out in the country.
Another example would be if you live 15 minutes from the beach but buy property right on the beach. You don't want to give up your house, so you can have the best of both worlds by moving your house to the beach.
Can Your House Be Moved?
When you meet with the expert house movers from Pacific Movers, Heavy Haulers, they will be able to determine if your home's structural integrity is where it needs to be so the house can safely be moved.
They will also look at the distance you want your house to move and if the final destination is conducive to having your house installed on it. It's important to consult local structural engineers and structural moving companies about the logistics to determine whether moving your house is feasible.
The house moving experts from Associated Pacific Movers, Inc. will determine if there is a clear route to the new location from the original location of your house.
This means there will be few overhead utility lines, a limited number of trees, and minimal traffic. Your home will also be inspected to ensure it is structurally sound enough to be moved safely.
Time to Budget
You will meet with the house hauling experts at Associated Pacific Movers, Inc. to determine your budget. This will help you to ensure that the total costs associated with moving your house are within the parameters of your budget.
Remember that moving a house costs between $90,000 to $200,000.
The total cost will depend on several factors, such as the size of your home, its age, how far you want to move it, and any changes that need to be made at the new location.
The house moving professionals from Associated Pacific Movers, Inc. can provide you with a specific quote for your situation.
Plan Your Move
Sign the necessary paperwork and go over the blueprints for your project with your moving company ahead of time. Your moving experts will assist you in creating a moving plan which will include things like if you want to take a porch with you or if you want to keep the same brick chimney.
You will need to meet with your moving professionals, including contractors, movers, and even architects, to ensure that everything is in place and that all the details have been figured out ahead of time. You will also need to ensure that all the necessary paperwork is filled out and permits have been obtained so that everything is legal and good to go on moving day.
Declutter Your House
To have a successful and smooth moving day, you will need to pack up anything breakable in your house and possibly move that yourself. All flammable items must be removed from your home ahead of time, and the contractors you hired as part of your moving company contract will unhook appliances, pipes, etc., on moving day.
You should pack a first-night box to make things easier on the night of your moving day. This can contain any medication you need, laptops, tablets, computers, cell phones, chargers, clothing, toiletries, makeup, hair products, important documents, and other things you may need immediately.
You can take photos of everything as you are packing so that you know what condition they were in when your house was still at its original location. This protects you and your moving company if something is lost or broken. As long as you make the right preparations, moving day should go smoothly for you and your house moving company.
Contact Us
If you have decided that you want to move to a new location and take your beloved house and all of its memories with you, contact the professional house moving team at Associated Pacific Movers, Inc.
The staff will work diligently with you to ensure your house can be moved safely and successfully from its original location to a new location of your choice.
The trustworthy house movers at Associated Pacific Movers, Inc. have the skills, knowledge, experience, and equipment to safely move your beautiful house from one location to another.
Call today to get the process started!