Mobile Home Moving in Boise, ID
Associated Pacific Movers, Inc. employs highly-skilled professionals equipped with the best tools and vehicles to transport mobile structures. One of the reasons you invested in a mobile home is the freedom to go where life takes you. If you've decided to relocate your home, depend on our manufactured movers in Idaho to quickly and carefully complete the job.
Designed for ease of relocation, transporting mobile structures without a professional may cause costly or irreparable damage. Entrust this responsibility to our mobile home moving business and our team of savvy, knowledgeable movers. We'll leverage years of experience to determine the best course of action for protecting your mobile home while in transit.
Premier Mobile Home Moving Services
The name "mobile home" is deceptive. These structures require a little finesse for safe, damage-free transportation. Fortunately, we're an expert mobile home moving service in Idaho with top ratings from satisfied customers.
Rather than risking the entirety of your home or business, trust our decades of experience transporting these units to different parts of the city, state and country. As a preferred mobile home moving service in Idaho, we'll relocate any portable building, including:
Manufactured homes
Mobile offices
Park model homes
Tiny homes
Modular homes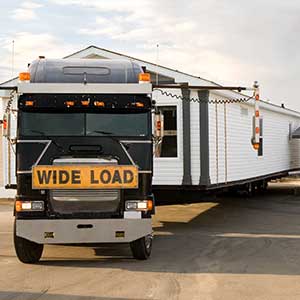 Mobile Home Moves
Ordinary home and building moving is typically not a big deal. Even if you have a lot of items to move, the process can usually be done relatively easily. Whether you hire someone or do it yourself, larger items like couches or televisions do take some teamwork. But what about an entire mobile home? Moving mobile homes is more common than you might think, and it's a bit different from moving an apartment or a house. In fact, if you're moving your mobile home across state lines, you might need to do some extra research. Let's explore a few tips to help you with the process if you're considering a move around Boise, Idaho.
Reasons Why You Might Need a Mobile Home Moving Service
Deciding to move your mobile home can be a big decision. After all, it's home for you and your family. However, there are a few reasons why you might need to move your mobile home, and here are some of the most common ones.
You're moving to a new state for work or to be closer to family.
You've decided to change your residence.
Your mobile home is in bad shape and needs to be fixed or replaced.
No matter the reason to move your mobile home, proper steps must be taken to ensure that the move goes smoothly. Doing everything right beforehand can save you time and money.
Preparing to Move Your Mobile Home
The first thing you'll need to do before moving your mobile home is turn off the utilities. If you have a septic tank, you'll need to call a plumbing service before you disconnect it. They can come out and pump the septic tank for you so that the tank doesn't overflow during the move. Disconnect any cable or satellite dish as well. You'll also want to make sure that you have the contact information for your new utility provider handy so that you can call them for service as soon as your mobile home arrives at its new location.
Regarding the interior, removing expensive or fragile items such as electronics, fine China, and breakables from the cabinets is recommended. If you have a lot of things to pack away and aren't sure how to do it, contact your mobile home moving service for more guidance.
The exterior should also be prepared adequately to ensure there is no damage. Windows and doors can be covered with plastic to protect them from the weather, and any areas that might be susceptible to leaking should be covered. You'll want to ensure that anything on your mobile home's exterior is secure before it's moved, too. Windows should be closed and locked, and patio furniture should be securely moved inside or tied down. It's also a good idea to clean the exterior of your mobile home thoroughly before it's moved, as this will make it easier to inspect the unit after it has been unpacked. Any decorative pieces can be placed in storage, such as the mirrors and paintings you might have hanging on your walls.
When you're ready to move, you should ensure the new site is ready by having level ground and a dumpster on hand to take care of any trash that results from the move. Flat ground is imperative for delivery to protect against any possible damage.
Moving Your Mobile Home
Although mobile homes have the flexibility of being transported from one location to another, many don't realize just how much moving a mobile home can cost. You should hire a professional mover for this task, as self-moving could be extremely risky if you're unfamiliar with the process. Also, you should expect it to be more costly if you need to move a double-wide mobile home. There are also regulations, such as weight and size restrictions, that you need to be aware of before attempting to move your mobile home.
Do remember that moving a large structure like a home is considered an oversized load. In this instance, you would also have to pay expenses for a pilot car that would escort you from your current location to your destination. Mobile home moving equipment can also be factored into your budget. Some typical items that are needed to move a mobile home include tow hitches, tires, and dollies. The tow hitch is used to secure your mobile home to a trailer. Also, a hydraulic lift is necessary to move the house from its current location.
Finding a Place to Move Your Mobile Home
Since moving a mobile home isn't an ordinary task, it's important to conduct good research to find a trustworthy moving company. Good mobile home moving companies should handle all aspects of the move to give customers more peace of mind. These tasks include ensuring the necessary permits are in place, cleaning up the moving site after the home has been moved, and disconnecting all your plumbing.
If you're trying to find a good mobile home mover in Boise, they should stand well with the Better Business Bureau. The BBB gives a rating that's based on the company's customer reviews and complaints. It would help if you also asked to see copies of their licenses, such as local or state permits. Take some additional time to check out their reviews online or ask other people who have used the company in the past about their experience.
Moving a mobile home isn't an easy task. Consider following this checklist of steps before you get ready for the big day. This will ensure that the process goes as smoothly as possible and that you are prepared for anything that might come up. You'll also have peace of mind when you hire the right company knowing everything will be taken care of properly.
Call Us Now
Preparing to move your home or relocate your business? Contact us at Associated Pacific Movers, Inc. at 208-376-8660 now to discuss your transportation needs and our moving services.
When you hire us, rest assured we'll relocate your mobile structure without incident or injury. We maintain a sterling reputation because we're the most reliable mobile home moving service in Idaho. Count on us to move your mobile structure when you're ready!