Heavy Equipment Transport in Boise, ID
Associated Pacific Movers, Inc. specializes in heavy equipment transportation in Idaho.
Correctly moving heavy-duty commercial or industrial machinery requires expertise, quick thinking and diligence.
Our transportation business has relocated heavy equipment for more than four decades, and we know what it takes to do it right.
Rigging equipment transportation in Idaho is vastly different from moving smaller parcels and packages.
You want to partner with us because we're well-educated and trained to handle these distinctions to ensure your equipment arrives at the job site on-time, ready to work.
Large Object Transportation
The name "mobile home" is deceptive. These structures require a little finesse for safe, damage-free transportation. Fortunately, we're an expert mobile mover in Idaho with top ratings from satisfied customers. Clients trust us to precisely handle heavy equipment transportation in Idaho. We spent decades transporting agricultural, engineering, oilfield, construction, military and mining equipment around the State of Idaho and to destinations scattered throughout the country. Our finely-tuned business operations prepare us to move any large object, including but not limited to:
Bulldozers
Combines
Engines
Excavators
Forklifts
Pile drivers
Track loaders and graders
Tractors
Trenchers and scrapers
Trucks and other vehicles
Heavy Equipment Movers
There's nothing more frustrating than moving day. Even before that day arrives, you have to consider how you're going to get everything from one location to another. Residential homes and commercial businesses alike have come to depend on us at Associated Pacific Movers. We are experienced, qualified heavy equipment movers who can work to move any and all equipment that you have.
Every Job is Different
We know that every job is different because of the kind of location you have, where the equipment is located, and just how heavy it is.
Perhaps it's only 1,000 pounds but really awkward in shape. Perhaps it's 10,000 pounds and contains no wheels.
You can see how important it is to focus on a customized plan for moving anything – and heavy equipment transport in Boise, ID is what we specialize in.
What is "Heavy Equipment?"
One of the questions that we are commonly asked is "What is heavy equipment?" This can vary based on who you are and what you have that needs to be moved.
Often, it is something that is too heavy to move on your own. It may require more than a hand truck to move. Even if it has wheels, moving something across the city or across the state may be complicated.
We have a wide array of equipment that helps us to move everything from sheds and tiny homes to tractors and construction equipment. We even move commercial equipment!
Our expertise is what has allowed us to help a variety of industries with movers – agriculture, construction, manufacturing, residential, food & beverage, and more.
When you're looking for heavy equipment movers near me, your search is over. We have the means to move even the most oversized equipment – and we can provide you with a no-obligation quote at any time.
The Importance of Hiring Professionals
Many people wrongly assume that moving heavy equipment isn't going to be that hard. This often leads to injured employees, damaged equipment, and even failures on the way to the destination.
Unfortunately, we have seen all of the heavy equipment moving gone wrong – and we are here to bail everyone out when it happens.
We would much rather be involved from the very beginning. We have the know-how to provide guidance every step of the way. This also ensures that no one gets hurt and no equipment gets damaged.
It requires much more than a few dollies and a flatbed to move most equipment.
We have invested in a lot of equipment that assists with transporting large and heavy pieces of equipment. We also make sure that our employees go through comprehensive training to ensure that everything is done safely and securely.
Some equipment, such as trailers, have to be lifted off of the foundation – and that requires a jacking system. It allows us to safely lift items and place them back down. This has helped us to work with various homeowners and land developers alike.
We choose the right equipment for the job. We take the time to understand what is being moved and what the obstacles are.
We'll look at:
Dimensions

Weight

Balanced load

Other obstacles
We can choose to place the equipment on a step-deck trailer, an oversized haul trailer, a flatbed hauler, or even a double drop trailer. Each has its benefits, and we have all that is needed to accommodate you.
Logistics Matter
We've heard stories of transport service companies providing quotes over the phone and setting everything up within an hour of receiving a call. Then, the inevitable happens – failure.
We believe that logistics are of the utmost importance when it comes to heavy equipment transport. We have logistic experts who focus on a process that will work for the equipment you need to haul.
We look at how far the equipment is going and how quickly you need it to get to its destination.
As we move things in and out of Boise, we recognize that some loads need to go further – and that requires the potential for pilot vehicles, load assistance, and so much more.
Some equipment may be transported individually while others can be placed onto a skid pallet or transported within a single hauler.
Particularly when you are moving an entire business or you are relocating your construction site, bulk equipment transport is what you need. It's not as simple as boxing everything up and booking a traditional mover.
The heavier equipment that you have, the more expertise you need for logistics – and we have the means to help you. Our goal is to help you find fast, affordable, and well-managed freight solutions for anything that you may have.
Get Help on Every Level
At Associated Pacific Movers, we're not simply a moving company. We help with picking everything up, moving it, and delivering it. This allows us to offload the equipment to where it is going to be utilized.
Wherever your equipment is going – inside or outside – we can help. We have an array of ramps, cranes, and other equipment that will be used to help you with your setup.
Where everything ends up matters. One of the reasons why you called professionals, to begin with, was because the equipment was too heavy and too awkward to move on your own. If everything is simply dropped on a loading dock, that doesn't help you much, does it?
We want to hear about all of the concerns that you have. We want to hear about your "vision" for where everything will be housed upon delivery at your new location. Then, we'll work with our logistics team to address your concerns. We'll create a pickup and delivery plan that meets all of your goals.
It all starts with a plan. Talk to us about what's being moved and how quickly you need it moved. We can provide expedited services while still customizing the transportation services.
Contact us today to find out how we can work with you on moving your heavy equipment.
We invest in the highest quality tools and gear to ensure the safe transportation of your large and unwieldy equipment. Our fleet of flatbed haulers, oversized haul trailers, step deck trailers and double drop trailers accommodates your complete transportation needs. To ensure your equipment arrives on time, we diligently maintain our vehicles to eliminate unnecessary downtime and unplanned stops. When your business needs a partner in large object transportation, come to us for not only the best services available but competitive pricing too. We're available to discuss the specifics of your cargo, from container sizes to insurance. To minimize any concerns you might have, we are fully licensed and insured to move any rigging or other heavy equipment.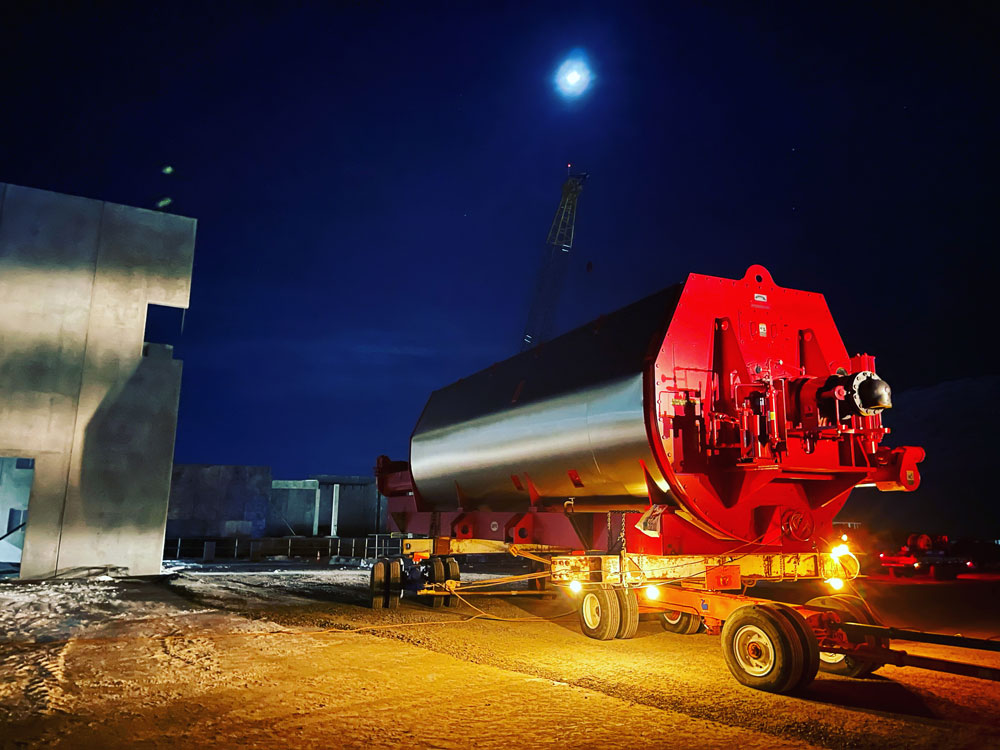 Ready to Transport Your Equipment
Every business requires reliable results from the company that handles their rigging equipment transportation in Boise, ID. Discover why so many enterprises count on our moving services at Associated Pacific Movers, Inc. Contact us at 208-376-8660 to speak with one of our representatives about saving you money while safely transporting your heavy equipment.