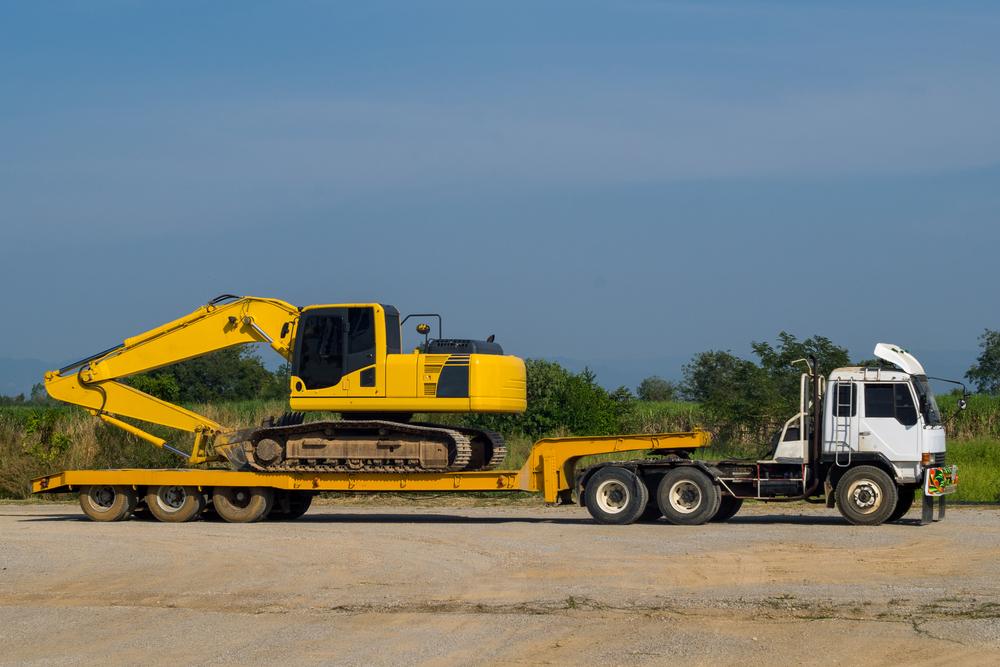 When you have heavy equipment that needs to be moved, you need a proven, reliable, and professional heavy equipment transport team that you know you can count on. You have made a major investment in your heavy equipment. That means you need it to be delivered safely and efficiently so that it will be on-site to do the job you need done. That's where Associated Pacific Movers, Inc. comes in.
Our team moves heavy equipment, structures, and supplies where our clients need them in a timely and safe fashion. We take pride in moving high-value assets over long stretches of road with a perfect track record.
Heavy Equipment Transportation Near Me in Idaho
Associate Pacific Movers specializes in heavy equipment transport in Idaho. Moving heavy industrial or commercial equipment properly and safely takes expertise, experience, diligence, and fast thinking. Associated Pacific Movers, Inc. has been in the heavy equipment transport business for over 30 years. In that time, we've learned a great deal from the professionals who came before us, but we've learned even more through hard-earned experience.
Rigging equipment and transport in the state of Idaho are very different from hauling smaller cargo such as packages and parcels. It requires a deep understanding of how the equipment will carry, experience with the road you plan to transport the equipment over, and structural knowledge of the equipment itself.
Our team doesn't just load the equipment to be moved. We engineer the haul with the highest possible degree of precision for maximum stability, but also to anticipate and mitigate any problems during the move. This includes surveying the road ahead for unforeseeable problems, and an advance team to deal with potential disruptions before the hauler trucks encounter them.
How Do You Ship a Heavy Machine? 
The safe, legal, and timely heavy equipment transport is not something to be taken lightly. Moving some of the heaviest machines ever built requires strict set loading, transport, and unloading protocol. The key to a successful heavy equipment haul is creating a plan that encompasses the load itself, the challenges of the road, and a full set of safety measures in place and ready to launch at a moment's notice. Here is what our hauling prep procedure looks like.
Step 1: Risk Assessment
In this step, we brainstorm all of the commonly known risks of a heavy haul. We build a plan around those risks to minimize or eliminate them. Then we look at potential risks that might catch the haul team off guard and build in additional safety and prevention measures to answer them.
Step 2: PPE Outfitting
The second step is supplying the haul team with all of the safety gear they need to do the job right, and everything they need to respond to possible problems. This means safety gear. It also means additional securement equipment.
Step 3: Truck & Trailer Inspection
The third step is all about assessing our truck and trailer. This means examining the structure of the vehicle for physical integrity, tire pressure, suspension, and brakes. It also means ensuring our signaling equipment is functional and robust. Finally, it means inspecting all of our tie-down points to ensure they are intact and strong.
Step 4: Design the Haul
The final step before loading the equipment is to design the haul. Every heavy equipment haul has a proper structure. Just like any building needs to be engineered to stand firm, so does a heavy equipment haul. This requires using simple, proven engineering principles to create a verifiably sound haul structure.
How Much Does it Cost to Ship an Excavator?
The most cost-effective way to ship any piece of heavy construction equipment is the safest way. For our moving services, cutting corners is not an option. The average cost to move a CAT 313 GC excavator 700 miles will be between $2,000 to $2250. There are cost-cutting options available, but safety features are not among them.
Contact Us for More Information
Contact us today to learn more about how Associated Pacific Movers, Inc. can do to make your heavy equipment move a sure thing.