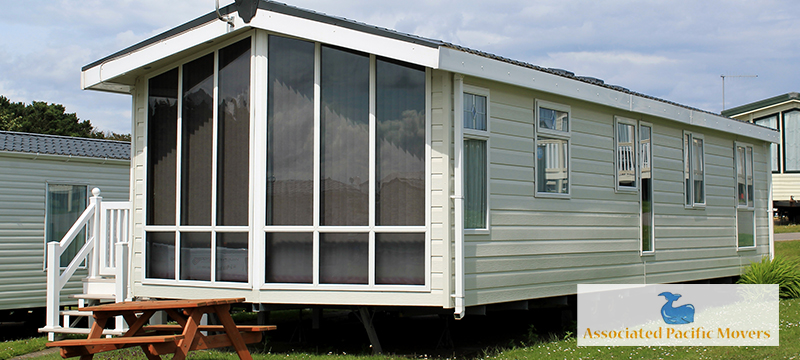 Are you looking to move a mobile home in Boise, ID?
Putting the perfect mobile home in the perfect location almost always requires moving.
Most of the time, at least part of the move will be over public roads, which means that there will be a long list of licenses, rules, and regulations requiring your mover's attention. And once you move your mobile home, you need to set it up.
Moving a mobile home in Idaho just isn't a do-it-yourself project, you will need the moving services of a mobile home moving company like Associated Pacific Movers, Inc. to relocate your mobile home in Idaho.
What Do Mobile Home Transportation Companies Do?
Mobile homes are, well, mobile. They are built on wheels so they can be moved from one location to another.
The overwhelming majority of mobile homes, over 90 per cent, are only moved once, from the dealer to the buyer's property.
But when you can get a great deal on a used mobile home in Idaho, you will usually have to move it again.
The State of Idaho has some rules about how to do that. Mobile home transportation companies make sure you can follow all of them.
The first thing you need to know is that some mobile homes can't be moved.
There are Housing and Urban Development standards for the quality of construction for mobile homes that are required for all newly sited mobile homes.
They were written in 1976. That means that if your mobile home was built before 1976, it probably won't meet those standards, and can't be relocated.
There are mobile homes built in the 80s and 90s that can't be moved, either.
Licenses. When you take a mobile home on the road, except for the very first time you take a new mobile home to a dealership, the State of Idaho requires you to have a license for it. This means that a highway patrol officer could pull you over and ask to see your registration and your property tax receipt. This isn't likely to happen when you have also had to make arrangements to direct traffic behind and around your mobile home to haul it over mountain passes and on narrow roads, and so on, but that means more trips to more offices, not less.
Property taxes. You will need a certificate from your county treasurer that you have paid your taxes before you can move your mobile home.
Title. The title establishes that your mobile home belongs to you. You need a clear title to deal with moving companies, the owner of your new lot if that isn't you, and traffic patrol.
Liability insurance. If you are moving your own home (which isn't something we recommend), you will need to be able to show you have $300,000 in liability insurance on the vehicle used to tow the home. Any company you hire to move your mobile home in Idaho will need $750,000 in liability insurance, but that's the hauler's responsibility, not yours.
Size limitations. Mobile homes moved on Idaho public roads are expected to be no more than 16 feet wide at the base and 18 feet wide at the eaves. There is an additional three-inch allowance for door handles, window trim, moldings, and chains to secure the structure. It is possible to move a wider mobile home on Idaho public roads, but the permits have to have been requested before the mobile home is even manufactured. Moving extra-wide mobile homes always requires additional permits and a plan for traffic control.
Brakes, lights, gears, running assembly. The rules don't say that you have to get a mechanical inspection of the running assembly under your mobile home prior to moving it, but your insurance may require it. State rules just say that your mobile home had to meet federal regulations at the time it was manufactured. But you certainly want to be sure the brakes and lights work!
Axles. A mobile home that is 16 feet wide must have at least four axles. There must be brakes on at least three of them.
Length. Mobile homes moved on Idaho roads must be 80 feet long or less.
Towing vehicle. The truck towing a mobile home must be capable of moving it at least 25 miles per hour. There is a speed limit of 60.
Driver. The driver of the vehicle towing a mobile home in Idaho must have a class A or B commercial driver's license.
That's a lot of reasons for a patrol officer to write you a ticket if you get pulled over!
Even more importantly, there is a lot to consider in moving your mobile home from one site to another safely and intact.
But there is one more reason that moving a mobile home is never a do it yourself proposition in Idaho.
The state also requires you to post a commercial bond to guarantee coverage for any damage your driver or your mobile home creates during the move.
Only a licensed mobile home mover will be able to get the bond.
How Can I Find the Best Mobile Home Movers Near Me?
Now that you know that moving your mobile home from one site to another isn't as simple as hooking it up to a truck and hauling it away, what do you need to know to choose the best mobile home movers in your area?
Be forewarned that there is no such thing as one price fits all moving. Any hauler will need to know the make, model, and age of your mobile home before offering you an estimate. The best mobile home moving companies will not charge you for the estimate.
Then there are some basic questions to ask before you commit to any mobile home mover. Are they licensed, insured, and bonded? That is, if they damage your mobile home, do they have a commercial bond to pay you for it?
You need to ask how long the moving company has been transporting mobile homes in Idaho. Ask them if they have moved mobile homes from your current location to your destination, especially if the move goes through challenging terrain. You don't want your mobile home to be your mover's learning experience.
You need to know whether the mover will disconnect gas, power, and water at your old site. Will they remove skirting, overhangs, and porches? You need to know if they do site cleanup, or whether you will have to hire that task separately or do it yourself. You need to know if they can do set up on your new site, such as putting sections back together and connecting utilities.
What If You Need Lifting Instead of Moving?
If you are looking for house lifting contractors in Idaho, it is important to understand that mobile home and house lifting and mobile home moving are different skill sets.
You can often get them from the same contractor, but you need to ask different questions. But first the contractor will have some questions for you.
Your contractor will want to know why you want your mobile home lifted. Maybe your concern is flood protection. Or you need a more functional crawl space.
You could want to place your mobile home on a permanent foundation, or you may just want it to look better.
All of these are good reasons to lift your mobile home. It's not like you need a contractor to lift your home 10 feet into the air. Just a few inches will usually do. But for lifts of any height, we have seven suggestions.
Be mindful of sagging beams. 

Make sure your mobile home is structurally sound enough to be lifted.

Make sure your contract calls for removing porches, overhangs, and skirting. 

These make lifting very difficult. You may be able to reuse them if your mobile home is only being lifted a few inches, but they may have to be replaced.

Consider putting a layer of gravel under your crawl space. 

Gravel keeps the dirt underneath your mobile home from washing away. It also reduces problems with standing water.

Consider alternatives to a permanent foundation.

 If you are looking to put your home on a more stable foundation, ask your contractor about pads or footings. You will need a general contractor for all of these options.

Plan for extensions to your utility connections. 

Electrical, gas, water, phone, and Internet connections may need to be extended when you lift your mobile home.

Ask about being sure you get a level lift. 

If your mobile home's new elevation isn't level, you will have trouble opening and closing doors and windows. Be sure to inquire about making sure you get a level lift.

Always hire a pro. 

You can find forums and websites that leave you with the impression that lifting a mobile home is something you and a few friends can do with a bunch of jacks on a Saturday afternoon with plenty of time left over to enjoy a few beers. Don't do this. Consider the weight of your mobile home. One jack comes loose, and your entire home can come crashing down. Injuries and death can result. Electrical wiring is difficult and dangerous. Mobile home lifting is a project for the pros.
Now let's consider some of the most frequently asked questions about moving mobile homes in Idaho and their answers.
Frequently Asked Questions About Moving Mobile Homes in Idaho
How can I move my mobile home myself?
We strongly recommend against do-it-yourself mobile home moving for anyone who isn't a professional, but it is possible if you own both the mobile home and the tractor truck you will use.
You will still need to do all the work and get all the bonding, insurance, and permits that a licensed contractor will take care of for you.
If you aren't prepared to go through all the steps we mention in this article, we strongly recommend that you use a licensed, professional contractor.
How much does it cost to move a mobile home to a lot?
An honest answer is, "It depends."
The first factor in the cost is whether you want to do a transport-only or a full-service move.
Transport-only moves require you to get your mobile home into move-ready condition.
The mover hooks it up to the towing vehicle, moves it to the new location, and unhooks it.
The transport-only mover takes care of all the permits, bonding, and insurance needed for moving your mobile home over public roads in Idaho.
Full-service moves also cover removing skirting and porches, as well as skirting, and reattaching them at the new location. They also cover disconnecting and reconnecting utilities.
A transport-only move of a single-wide across level terrain for less than 10 miles will almost certainly cost less than $5,000, sometimes considerably less. Moving a double-wide or triple-wide with full service can easily cost $10,000 to $15,000 for the same distance.
Mountain roads and difficult moving conditions or moving a double-wide or a triple-wide add to the cost of moving.
The actual cost of moving your mobile home will depend on travel distance, location, permits, local regulations, labor costs, setup services, moving materials, and more.
There may be per-mile charges for the towing vehicle (usually $5 to $7 a mile, although fuel costs figure into this) and the pilot car or pilot cars (usually $1.50 to $2.50 a mile for each).
Can you move a mobile home with a pickup truck?
There are tiny homes that are designed to be pulled with a pickup truck.
You can move an Airstream, Bowlus, or Living Vehicle aluminum travel trailer with a pickup, too, although these structures can get really chilly in Idaho winters.
For moving mobile homes, single-wide, double-wide, or triple wide, of just about any length, however, your pickup truck just won't have enough power, especially for getting over mountain passes and up steep grades.
There is also the issue of braking power with a pickup truck. For any sizable mobile home, you need a tractor truck. Contact us