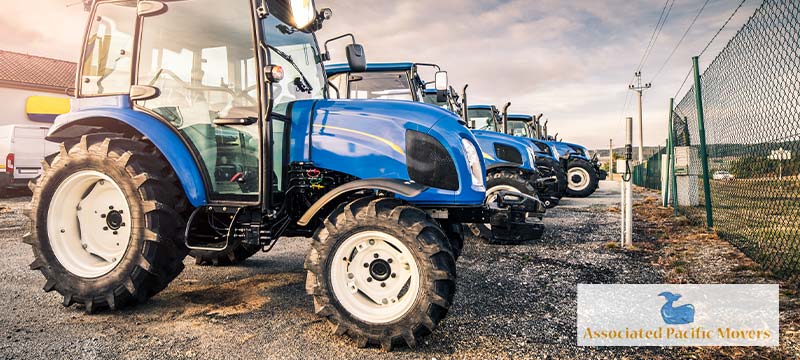 Much like heavy construction equipment, heavy-duty farm equipment is complex, massive, and requires special planning, and effort to transport safely and efficiently.
Every load must be engineered with precision for the equipment type and types to be hauled, the particular challenges of the route, weather, and the layout and features of your final location.
If you have been searching the Internet for "farm equipment movers near me," you know there are a lot of serious competitors out there.
But when you are looking for the most reputable and capable, farm equipment movers in Idaho, you need to work with a team that has the experience and tools to move heavy equipment in accordance with best practices.
But more importantly, you need to work with heavy equipment movers who are familiar with the mechanics of heavy farm equipment.
How Much Does it Cost to Transport a Tractor?
When calculating the cost to transport a particular piece or set of equipment, you will need to look at the weight, complexity, and distance the total load must travel.
On average, you can expect to pay approximately $5 for each mile traveled. But this can change as conditions change.
For example, harsher weather can elevate the price. Most of the time we will avoid hauling in bad weather, but conditions cannot always be anticipated accurately.
Also, the cost per mile will tend to rise the longer the trip is. You might, for example, pay as little as $1.25 per mile for a very short trip.
However, for hauls this short, it might be better to simply drive your farm equipment to the new location.
Road conditions can also be unpredictable and can affect the price of the haul. Our team does considerable work in surveying projected routes, but naturally, road conditions can change even more unexpectedly than the weather can.
All that being said, $5 a mile is a good rate for you to use in early budgeting processes. We will help you more accurately work out the final price later on, and your actual cost is likely to be lower than your projections, leaving you under budget.
How Do You Transport Farm Machinery?
The start of any large haul is paperwork. We will need to ensure all relevant documents and permits are obtained and sorted before pick-up. You will then need to have your shipping company confirm that the necessary permits are in place.
Moving heavy farm equipment requires planning, preparation, and a heavy dose of technical engineering.
First, the mechanical properties of the equipment to be transported should be understood.
That means planning for and mitigating the potential for movement in accordance with the design specifications of each piece of equipment.
Wheels must be locked in place, pivot sections must be immobilized, and tie-downs must be anchored to the right length and angle.
In addition to these considerations, the trucks and trailers must be fully inspected, insured, and demonstrated to be in tip-top condition. Lights, brakes, and radio equipment need to be fully functional with the requisite redundancy.
Finally, the suspension system of the trailer needs to be adjusted to suit the weight and proportion of the load.
Before pickup, you will need to ensure your farm equipment is in order.
Most importantly, the condition of the equipment should be well documented by a qualified mechanic and photographed.
This way, you can verify that the equipment arrived at the destination in the same condition in which it left.
Finally, critical parts should be covered, wrapped, and padded.
Farm Equipment Movers in Idaho
Don't settle for a hauling company with non-competitive experience or hauling equipment insufficient for the task.
Get in touch today to learn what Idaho's leading heavy equipment haulers can do for you.