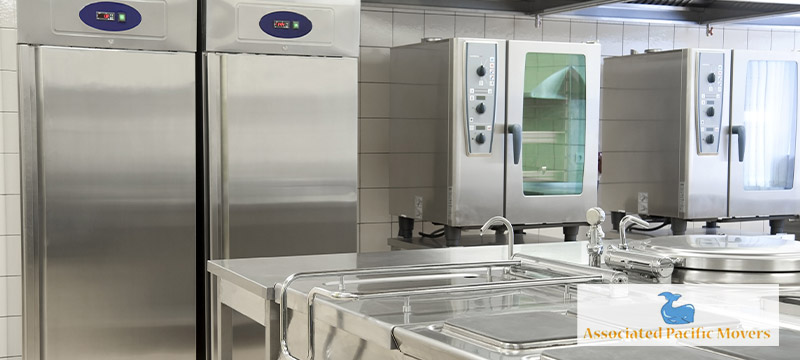 As a restaurateur, you know that the restaurant business is one of the most turbulent and challenging industries there is.
Much of your success is based on location, visibility, and other similar considerations, many of which can be difficult or impossible to control.
These basic facts about the industry and a wavering economy can make changing locations an important survival strategy for your business.
Moving may also be a necessity when you are very successful and need to expand, which is a nice problem to have.
Of course, the tools of your trade are huge appliances that cannot be moved by a couple of guys and a truck.
You need specialized services and capabilities to move your equipment.
Our team of restaurant equipment movers is well trained, highly experienced, and properly equipped to handle even the biggest list of kitchenware.
Types of Heavy Restaurant Equipment
22 Examples of Heavy Restaurant Equipment that We Move:
Ovens
Ranges
Ventilation equipment
Food processors
Mixers & Slicers
Food prep counters
Cutting boards
Freezers & refrigerators
Safety equipment
Storage racks and shelving
Cooking equipment
Serving ware
Containers
Sinks
Display Systems
Point of sale systems
Steam tables
Washing equipment
Sharpening stones
Microwaves
Ice makers
Gas & electric grills
How Do You Move Commercial Kitchen Equipment?
It takes a lot of careful planning to move a major appliance. If you have ever moved house or helped a friend move, you understand this.
Of course, moving large commercial-grade kitchen equipment is on another level altogether. Special equipment, trained movers, and more are required.
In some instances, it may be necessary to temporarily remove part of a wall. We can work with local contractors to deconstruct and reconstruct obstructing structures.
It is even possible to install wider warehouse doors to eliminate the obstruction permanently.
We start by developing a restaurant moving plan specially for your needs. Every restaurant is different with different equipment and different arrangement needs.
You have a unique set of equipment and a specific way of doing things. That means you need certain items to be moved in a certain order and arranged in a certain way.
This will all go into your restaurant moving plan.
In addition to this, we take your deadlines such as your opening day, the lease plan for the building you are moving out of, and more, into consideration.
Plus, we know how valuable your kitchen equipment is, and how much it means to you. That is why we give everything the white-glove treatment from point A to point Z.
How to Move a Commercial Pizza Oven?
If you have been searching online for "restaurant equipment movers near me," you might be looking at that massive pizza oven and wondering how it can be relocated.
For a start, even the smallest pizza ovens are too heavy to be moved by hand. They have to be loaded onto a heavy hauling truck using an industrial-grade forklift or crane.
The best lifting tool for the job is determined by the layout of the building, available space in the area between the starting location of the oven and the truck.
Also, the right securement gear will be required and depending on the size and proportions of the oven.
Everything we do is built around ensuring that the appliance gets where it needs to go in a timely fashion and in the same condition it left in.
How Do You Move Commercial Restaurant Equipment?
The way we load the truck is another matter for an expert team like ours. What goes in and in what order is a key consideration.
Large sets of equipment need to be properly dispersed across the truck bed for stability, and everything needs to be padded, packed, and stationary for the move.
But of course, all of that is our concern.
Your job is to fire up those burners on the other end of the move.
Get in touch today to learn more and receive your free estimate.