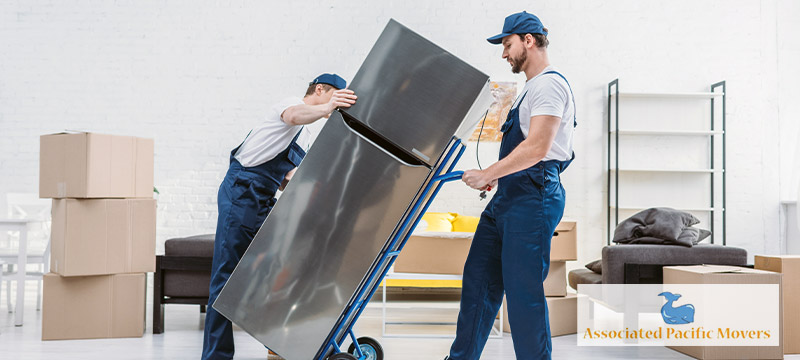 Do you need commercial equipment transport services to relocate your company's products or machinery?
Are you looking for a commercial moving company in Idaho that can handle cabins, sheds, barns, large structures, houses, and even whole buildings?
Associated Pacific Movers, Inc. has the technical and mechanical know-how to get the job done!
Our commercial movers have many years of experience transporting and storing your business items reliably and affordably. Our relocation specialists can handle almost any transportation, relocation, or warehousing need.
We have custom-built trucks with air-ride suspension and climate control to meet your specific needs. So, trust us to deliver your goods on time, within budget, and safely.
How Do You Move Commercial Kitchen Equipment?
Over-sized commercial kitchen equipment is bulky and difficult to transport and it's a job best left to the experts.
We transport commercial walk-in coolers, pizza ovens, commercial ovens, gas ranges, industrial freezers, and other items.
Relax and let the pros handle your kitchen's relocation or new equipment installation.
Consider hiring a restaurant or kitchen equipment moving company if you have a lot of appliances to move. For safety purposes, we ensure all appliances are at room temperature and properly disconnected before moving them.
Additionally, we'll provide a checklist to keep your equipment in pristine condition.
For example, it's important to remove any leftover food items from freezers or refrigerators. Our pros will wrap appliances, tables and chairs, and other items to help prevent damage during packing, transport and unpacking.
What Are Commercial Movers?
Unlike most residential moves, commercial moves in Idaho require the transport of sensitive documents.
Kelly Moving & Rigging LLC has specialized in relocating businesses for many years.
So, if you have a large number of electronics such as computers, phones, fax machines and printers, you can trust us to get it to the new location quickly and efficiently.
Many companies also store sensitive documents on-site. We provide advice and manpower for moving your sensitive documents safely.
Our team understands the need to get your new office up and running as soon as possible.
As the saying goes, time is money and lost productivity makes a move even more expensive.
That's why we handle all the details. From information technology equipment to office furniture to lighting, we'll make sure the lights are on and the equipment is ready to go before you walk through the door on moving day.
We can also work directly with property managers or facility managers so that you don't get bogged down in the details.
How Much Does It Cost to Move a 3000 sf House?
Lifting an entire shed, home or other structure takes the right equipment and knowledge.
Fortunately, Kelly Moving & Rigging LLC has the right team in place to move your home or business across town or across the state.
There are many factors that come into play when it comes time to provide an estimate for moving your home.
That said, we will give you an upfront price so that you can budget accordingly.
Every structure has its own challenges, but we do everything in our power to move your home at an affordable rate.
At a minimum, it costs at least $850 to lift the home and an average of $6,000 to move it to another location.
Generally speaking, the further you need to move your home, the more expensive it will be.
How Do You Move Heavy Objects?
Our professional equipment movers can move almost any size piece of equipment with ease.
We can move your small office or a warehouse full of goods, and you can even count on us to deliver expensive medical equipment or furniture.
Our commercial movers handle all kinds of heavy equipment transport in and around Boise, ID, everything from office relocation to shipping commercial equipment and merchandise.
Leaving the job to our professionals gives you access to muscle and brainpower focused on the most efficient way to move your items safely to a new location.
Our experienced pros use warehouse and asset management, CAD space planning, and on-site project management to handle the logistics of the move with confidence and ease.
Contact us today if you are in Idaho and need commercial or residential movers. Our experts are ready to help you with a stress-free moving process, so contact us today.